Are you tired of mowing the lawn by yourself? Would you like some assistance with this task? When there is no one around to help you, you can always depend on a robotic lawn mower to give you a helping hand. You can sit back and relax while your automatic lawn mower cuts every blade of grass without missing an inch.
But how do these helpful devices work?
Laying the Boundary Wire
If you've just purchased a robotic lawn mower in Northern Ireland or any other part of the UK, they should come with a detailed list of instructions, but if you've misplaced the guidebook, these steps will help you along.
You must set a grid for the robotic lawn mower to follow, it's an autonomous unit which glides around the grass without help from anyone. Boundary wire is used to create a network for the mower to track, you should place this wire a few cms away from walls, flowerbeds and pathways. The boundary wire defines the mowing area, once it is properly placed, your robotic mower will have no issues cutting the designated work zone.
Movement & Power
Because you won't be controlling the robotic lawn mower, you won't be able to guide it in certain directions as it moves across your yard. The way you control the mower is by setting up a grid for the device to follow. Most robotic lawn mowers work using a charging station which is positioned in your yard, once you've laid down the grid with boundary wire, you can place the robotic mower in the charging station.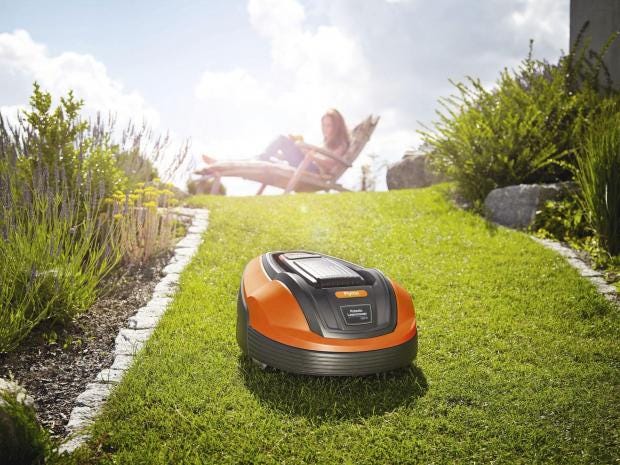 When the device has fully charged, it will exit the charging station and begin to cut your grass. Most robotic lawn mowers cut your yard in random strips, so don't get too concerned if it doesn't seem to be cutting in a deliberate pattern.
Safety
Robotic mowers are a lot safer that traditional machines, you can programme them with a personal access code, so you are the only person who can operate the machine. Because of its futuristic design, it tends to attract a lot of attention, especially from children. But, you don't have to worry about setting it off as it will only respond to an authorisation code and command. To begin cutting the grass, just press the start button and the robotic mower will leave the station, you press stop to finish cutting.
Batteries
A robotic mower works off rechargeable batteries that gather energy from a docking station which is placed in your yard. Most devices will automatically return to their charging stations once the battery is running low. The charging time depends on the type of unit you have purchased. On average, most models take under 2 hours to fully charge.
Robotic mowers are very easy to operate, once you lay down the boundary wire and avoid all of the obstacles in your yard, you can let the device go to work without any disturbances. It is an excellent device for making your grass look smooth and even, without any lines or missing sections.